We are Karo & Alex,
this is our travel blog Greece Daily, which is completely dedicated to the beautiful greek islands of the cyclades and brings you a piece of Greece every day.
We decided to emigrate to Greece. Naxos will now be our new home for the next year. And who knows, maybe for a longer period of time.
We would like to take you with us through our blog Greece Daily and show you our journey. We have helpful and valuable travel tips for you and try to answer all your questions about Greece and our trip.
Jamas and sunny greetings from Naxos
Naxos is the largest island of the cyclades in the southern aegean sea. Its diverse landscape, small charming mountain villages, and beautiful long beaches make this island a perfect new home for us. The capital city has the same name and is a lovely port town with white houses and colorful lights. Naxos will now become our new home for the next year.
And on this trip we would like to take you with us and let you share our new everyday life. A little piece of Greece every day from us for you!
News & Updates
The latest Greece Daily blog posts for you
Corona Lockdown in Greece
15. November 2020
Since November 7, 2020 6:00 am, Greece is in total lockdown for 3 weeks. When leaving the house, an sms must be sent to an official number. In it must be the appropriate reason for the exit. Wearing masks is now mandatory inside and outside greece.
Santorini – The top 10 thinks to do
23. October 2020
Santorini is probably the best known of the cyclades islands. Here you will learn everything you need to know for your Santorini vacation. To give you a good overview, we have listed the best 10 places that you should see on Santorini.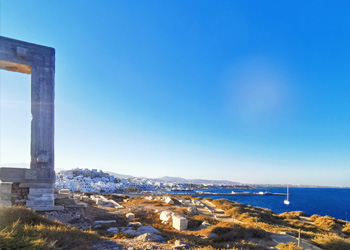 Naxos – Our highlights
21. September 2020
Diverse landscapes, charming mountain villages, and beautiful beaches – this is how our favourite Greek island in the South Aegean Sea presents itself. Naxos is perfect for nature lovers, hiking enthusiasts and pleasure seekers. Beach lovers will also get their money's worth….
The Cyclades from above
Here we have gathered a lot of important information about drone laws especially for Greece. You will also find many hotspots in the future where drone flying on the Cyclades especially worthwhile and of course all our recordings. We are very happy about your feedback.
The greek archipelagos
The greek islands are probably one of the most popular vacation destinations in the world. With a total of 3054 islands, Greece is home to about 82% of all islands in the Mediterranean. Part of the greek islands, such as Corfu and Zakynthos are located in the Ionian Sea. The other part of the islands, such as Crete, Mykonos or Rhodes is located in the Aegean Sea.
According to the last greek census, 113 islands are still permanently inhabited. That's enough to explore the colorful island paradise of Greece in detail. With our overview of the Greek island groups you get a first overview.
The focus of our website is on the Cyclades Islands. We have narrowed them down again to the 16 most popular ones. Little by little we would like to travel to all these islands. You are invited to experience this adventure together with us.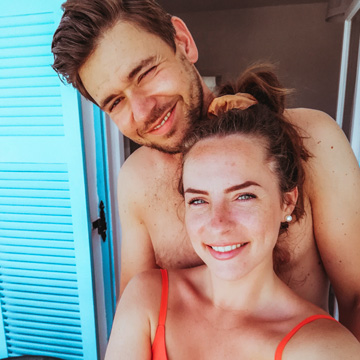 You have any questions?
Write us!
We would like to have a lively exchange with you. Therefore, your feedback is especially important to us. We are also grateful for tips and ideas. We are happy about every comment under our stories or a short mail from you. If you have a special request, please write us a message directly.
Sunny greetings
Karo & Alex (Greece Daily)