Welcome to our blog, Greece Daily, dedicated to the beautiful, Greek islands of the Cyclades! It's good to have you here. We would like to introduce ourselves to you: We are Karo and Alex, the two faces and authors of Greece Daily. Originally we both come from the north of germany – beautiful Hamburg. Recently we decided to leave our office jobs behind and emigrate to Greece. Despite uncertainties and especially despite Corona, our clear destination is Naxos, one of the most beautiful islands of the Cyclades in the Southern Aegean Sea.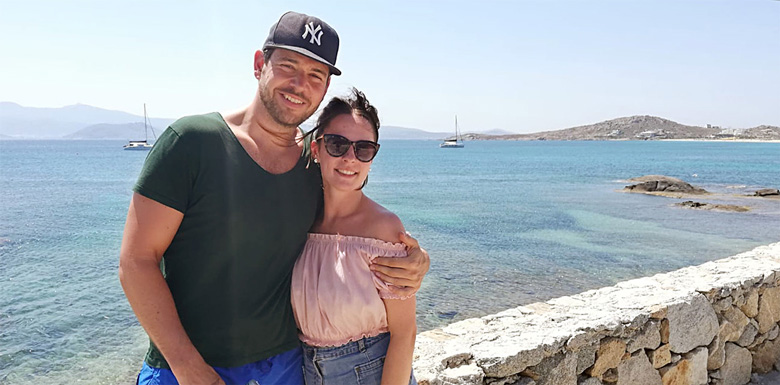 Since Alex has Greek roots and spent a large part of his childhood there, Naxos has become his second home over the years. A big part of his family still lives there.
After a few vacations on Naxos it was quickly clear to us, we would like to live on this island for some time. So the next year Naxos will be our new home.
Greece Daily
Since we have a very special connection to this island, we dedicate this blog to it and the other Cyclades islands. Greece Daily is our common project by heart.
We have just launched Greece Daily and our website is under constant construction. We start together from scratch and every day we will try to write down our newly gained impressions and experiences here. Many great moments, exciting tours and great adventures that we will have in Greece will then be written here on our website forever. So you can look forward to more valuable content in the future.
In addition to our personal contributions, we would like to have a lively exchange with you. Therefore, your feedback is important to us. We are also grateful for ideas and suggestions. We are happy about every comment under our stories or a short message from you. 
We take you with us to a colorful island paradise and let you participate in our journey in a very transparent way. We would like to travel and explore the surrounding islands and introduce them to you in detail. Always from our perspective, with our honest opinion and our thoughts. We are happy if we can inspire you and bring you a little piece of Greece every day.
Good to have you here…