During our trip to Greece we already had a lot of experience with DJI's drones and the drone laws in Greece. At first I had a Mavic Pro even with a Google Lens, which was pretty impressive. Because you have VR glasses and you can fly from the drone's point of view. Unfortunately it landed in the water after six months, which it unfortunately did not survive.
We named my current drone Icarus. (The name is intended as a warning so that this drone has not the same fate). A DJI mini incl. Fly More combo.
In this blog post, we will discuss the advantages of a drone when traveling, but also the dangers and issues that you should be aware of. I will also write about why I decided to go with the DJI Mini after I already had a Mavic Pro. In addition, I will make a small comparison of some DJI models.
The most important points summarized:
1. What are drone laws in Greece for?
Before we want to deal with the drone itself, we should first be aware of the basic drone laws. That's why we're starting right here. First of all, it is important to know that every country has its own laws on drone flights. Therefore it is important that you are aware about the exact regulations of the respective country you are flying to beforehand.
What are the drone laws in Greece for and why should they be respected?
State interest
The state is primarily responsible for the well-being of the population. Therefore, it is primarily a question of safety in the airspace. Every aircraft or helicopter is registered and approved for take-off and landing by the relevant aviation authority. It looks different with drones. They can fly up to several hundred meters without notifying the aviation authorities. This can lead to collisions and endanger human life.
Another point is that drones are increasingly being used by poachers in nature reserves to track animals. Which is of course strictly forbidden, but unfortunately difficult to monitor. Therefore, some countries have decided in advance to regulate drone flying more closely.
Privacy
Another aspect that should not be underestimated is respect for privacy. Here you should be particularly respectful of your fellow human beings, because this can quickly lead to problems in the holiday resorts.
Many people feel they are being watched by the flying camera on the beach, mainly because they do not want to be filmed in swimwear. We try to counteract this as proactively as possible by speaking to people before we start the drone. In most cases, we meet people who like to share their experiences with drones. But if that's not the case, we have to respect that too.
It is more difficult if you want to film a beach where hundreds of people are lying, here we try to fly as far away as possible over the sea.
Conclusion
Our conclusion is as long as you respect people's privacy and follow the drone laws in Greece, we have never had problems with our drone. Therefore, we definitely recommend taking a drone with you when traveling to take breathtaking pictures home with you.
2. Overview of the individual countries with regard to their drone laws
The friendliest countries are especially in Northern Europe such as Finland, Sweden, Germany, Poland, Holland, etc. But also Spain is still relatively relaxed when it comes to its drone laws. It is more difficult in countries like America, Russia, Greece, France, England. etc.
Blue
Means that you or your drone have to register, apply for a permit or even pass an exam before flying.
Green
It can be used without prior approval within the area of the regional regulations. If you want to move outside of the regulated areas, you can usually apply for a special permit.
Red
The commissioning of drones is generally prohibited. In these countries you should be particularly careful, because even at the airport your drone can be partially confiscated according to the laws or you can only be arrested because of possession of the drone.
Gray
We did not find any reliable information here or did not understand the drone laws sufficiently.
Greece
Since we have decided to emigrate to Greece, you will find a few more information here specifically about the Greek regulations for private drone flights. The drone law in Greece is a little more specific than it is, for example, in Germany. Fixed rules have been defined here since 2017 that have made flying a drone more difficult. So we now have to struggle with higher bureaucratic requirements.
Fortunately, the Aviation Safety Authority reacts relatively quickly to inquiries, which differs from most other authorities in Greece.
Basically, a flight with the drone applies, less than 50 meters is allowed in all areas, as long as you are not in a
no-fly zone for drones
. If you plan to fly beyond these 50 meters, you have to fill out the
form
in advance and send it to
info.dagr@hcaa.gr
. Helenic Civil Aviation Authority (HCAA)
In this application you will be asked about
personal information such as mobile phone number and adress while on vacation in Greece
Drone flight license or UAV. This costs around 600 euros including all extras, e.g. here drone license. However, this should not be mistaken with the proof of knowledge at an air sports association, which only costs around 30 euros.
In addition, registration with the HCAA is required in order to enter the correct registration number in the form.
If you have successfully mastered all the requirements and have received confirmation from the HCAA, you must go to the nearest police station or the town hall before the next drone flight, register your flight plan and have your identity confirmed. Now you have met all the requirements to legally fly a drone in Greece.
As a member of the European Union, Greece will take over the EU drone regulation from December 31, 2020. You can find more information about the new classes and regulations in the article on EU Drone Regulation
Overview: Drone Laws in Greece
Recreational drones allowed?
Yes, after registration
Commercial use of drones allowed?
Yes, after approval

Maximum altitude:        
120 meters in uncontrolled airspace. Without permission max. 50 meters
Do I need drone insurance?  
Yes, for private and commercial drone flights. We recommend this drone insurance.
Do drones need identification?
No
Do drones have to be registered?  
Yes

Drones must be registered on this page
Keep your distance from airports
Respect other people's privacy
Helpful links: EEnglish translation of the legal text / Info brochure
Summary
Without a permit, your drone may not fly higher than 49 meters with a permit not higher than 120 meters. The drone may move a maximum of 500 meters away from the pilot and there must be continuous visual contact. Only commercial users are allowed to control a drone outside of visual contact (through the transmitted live image). (Extra commercial permit required).
It is also important that there is a drone liability insurance, which is valid in Greece. It is best if you also have a translated version of the insurance certificate. Because the authorities react much more leniently if you demonstrably try to present all documents in an up-to-date form.
The maximum weight of your drone must not exceed 25 kilograms.
It is always important to ensure that, as in most other European countries, a distance of 8 KM to airports must be maintained. In addition, there are some flight bans in which flying is only permitted with a written approval from the HCAA.
Further flight bans apply at gatherings of people (demos, events, street festivals, etc.) at a distance of 50 meters.
There is also a strict flight ban on drones through government facilities such as military buildings, hospitals, prisons and police stations. You can find a current overview of the no-fly zones on the official HCAA MAP
In the case of hotels or private properties, you need permission from the owner. In nature reserves there is a special permit requirement. For flights over archaeological sites a permission must be issued by the Ministry of Culture.
Flights with the drone are only permitted in daylight, so it is best to refer to the information on sunrise and sunset on official weather websites. Night flights can only be granted with an extra permit.
In Greece, the regulations of the countries from which the pilot comes always apply, in addition to the regulations of Greece. The fines can range from 500 to 250,000 euros. We therefore strongly recommend that you adhere to the provisions of the Greek Aviation Authority (CAA).
We have compiled the information to the best of our knowledge and belief. Unfortunately, we cannot guarantee the accuracy of the information. If you want to be on the safe side, contact the Greek Aviation Authority.
FAQs:
Since there were always difficulties registering on the official HCAA website, we were informed that some applications were also approved without a "UAS Registration number" and without a "Pilot Training Certificate". So it's better to just try instead of desperate;)
Example:
Flight schedule: If you find it difficult to set certain times when you want to submit the application, we recommend that you choose the periods a little more generously. It will also be approved for 1-2 weeks.
Maximum Flight Altitude (in feet): 394FT (120m)
Flight Area Description: landscapes, beach and sea, waterfall, canyon…
Flight Purpose photos and videos for private purpose while preventing other's people privacy
Flight Polygon Coordinates: we maxed out (several KM) because it was impossible to know where exactly we would start.
If you cannot find a police station nearby, it is sufficient that you have the HCAA confirmation, insurance and your ID with you.
If you keep a max distance of 50 meters between pilot and the drone, you do not need to register for your flight at a nearby police station.
3. Which drone is best for a trip to Greece?
There are a few requirements for a drone that is to come with you when traveling, which we would like to go into more detail here. In contrast to a drone that you buy for use at home or in the studio, it is important that the drone:
Is ready for use as quickly as possible and is easy to use
Is very compact, handy and robust
Has a clear and stable picture
With a particular focus on the quality of the supplied (apps) programs, usability and resilience, we decided on the products from the market leader DJI. Especially when it came to flying in strong winds or adverse weather conditions, we were not disappointed by the DJI drones. Especially since other providers have still not got the image stabilization of drones under control as well as DJI.
Therefore, in the comparison, we go into the 3 best-selling drones for private use at DJI and which are particularly worthwhile for traveling. All 3 drones can be controlled with the DJI app and differ only marginally at first, so we'll take a closer look at them.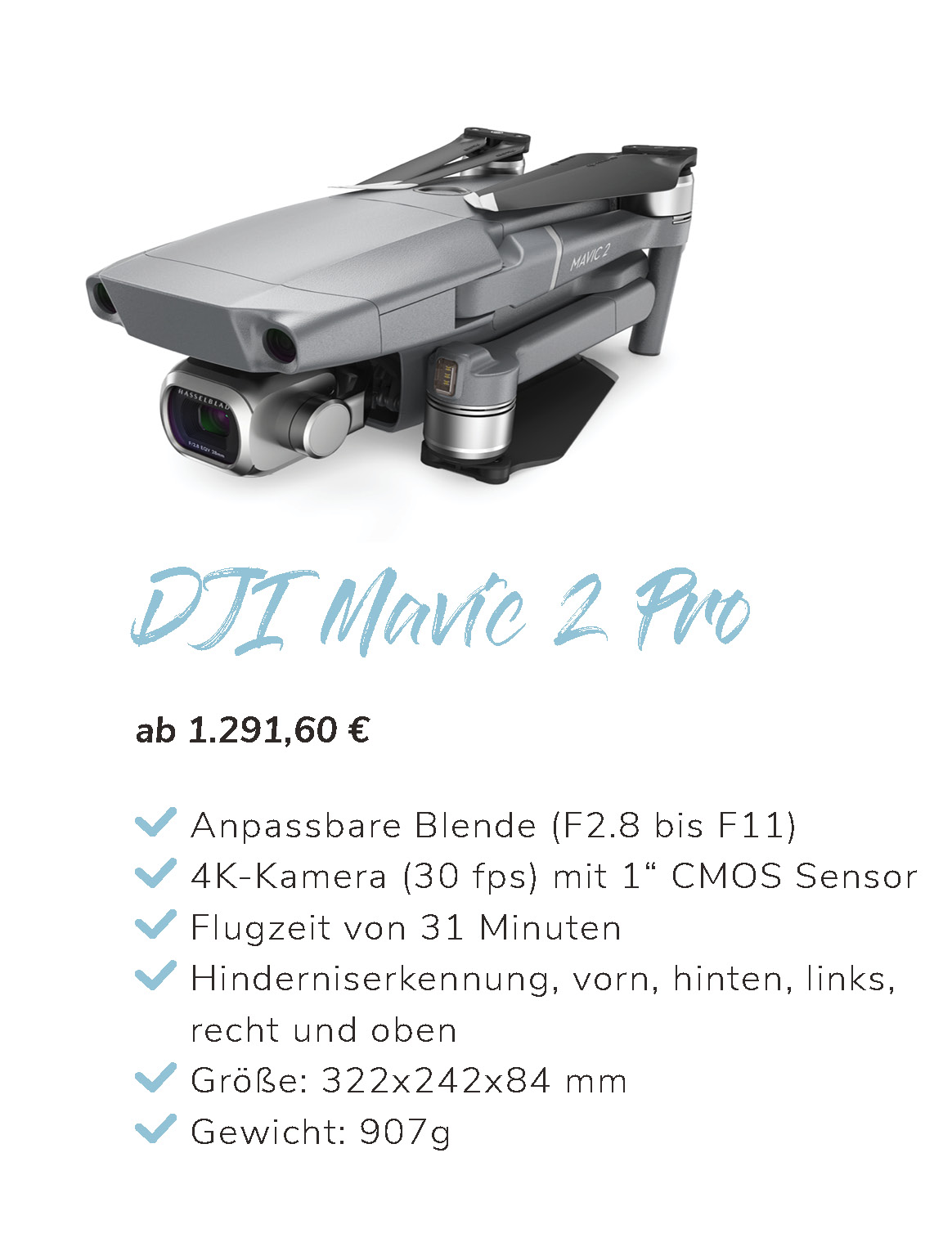 The DJI Mavic 2 Pro is the flagship among the DJI drones for people who plan to make a movie. It has a new hazel leaf camera lens and comes with a lot of new features that make it really easy to take sharp pictures and videos. It can be easily folded up and is still very compact compared to "high professional models". The obstacle detection in all directions and the very stable flight behavior, even in windy conditions, is also a benefit.
In addition, the lens is very adaptable to the current lighting conditions, which not only makes the images sharper, but also improves the brightness.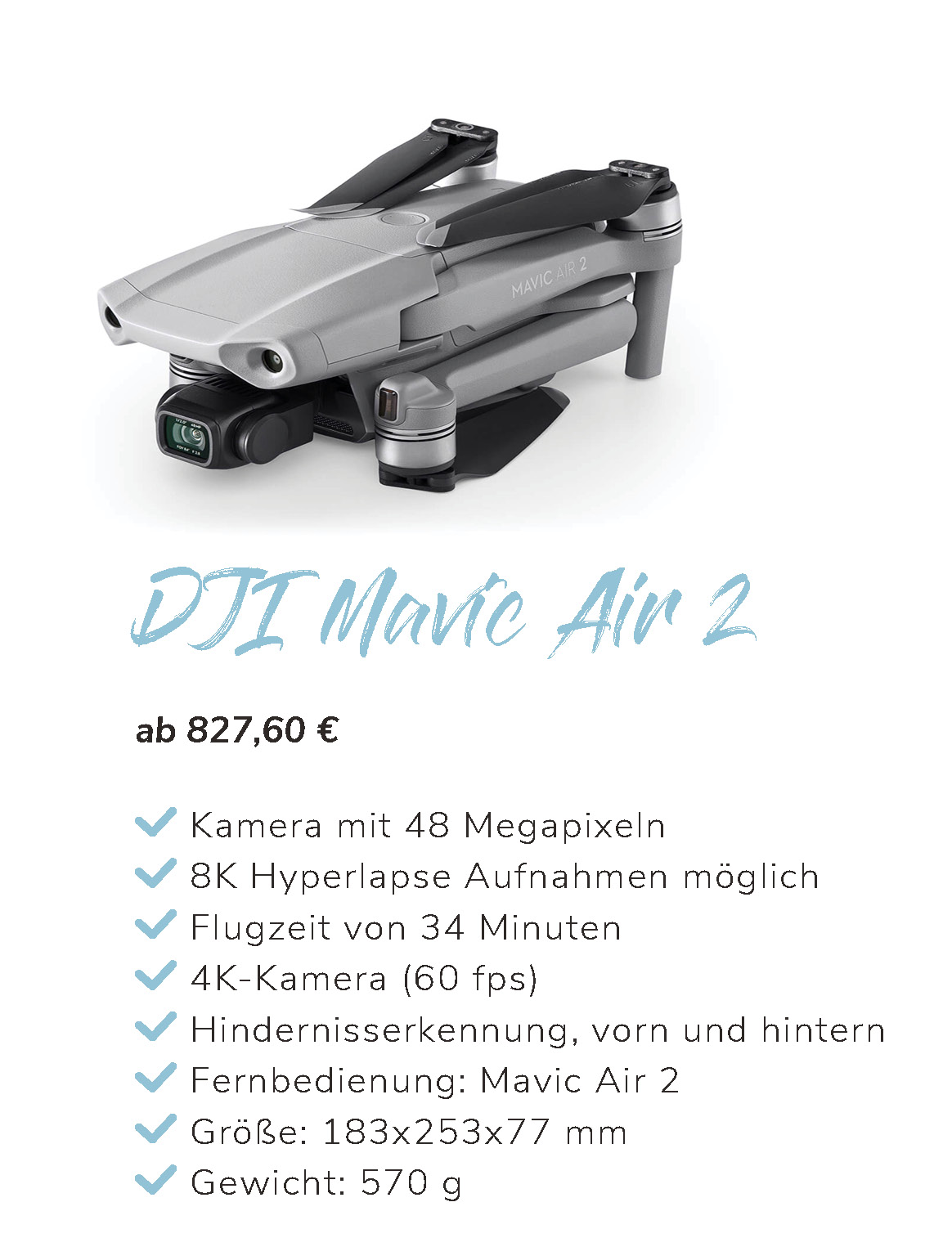 The Mavic Air 2 is performance wise located between the DJI Pro and the Mini. It is more stable in the air than the DJI Mini, especially in windy conditions, and therefore has  better images. Our highlight of this drone is that you can record 60fps in 4k mode, which is even an advantage over the DJI Pro and the remote control is much handier than this one of the Mini or the Pro. Update: The new DJI Mini 2 has now the same big remote control.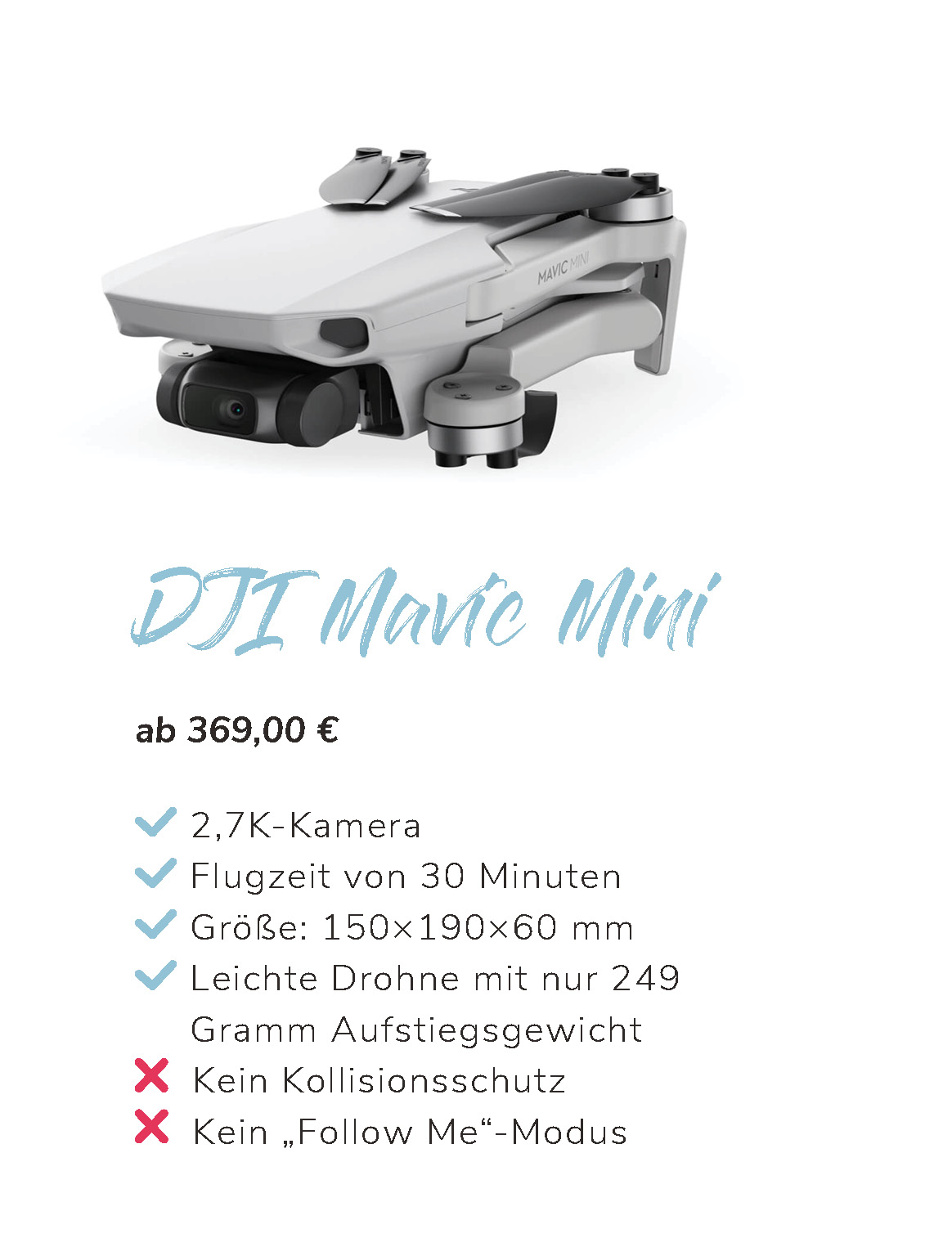 As the name suggests, the DJI Mavic Mini is the smallest and cheapest among the DJI drones. For us personally, it is also the best of all DJI threats, at least when it comes to travel. Because in Greece flights of more than 120 meters are not allowed (so the range advantage of the bigger drones  is no longer relevant). With the weight of 249 grams the drone belongs to the smallest drone class in many countries. As a result, many regulations and approval requirements will no longer apply to the Mini from December 31, 2020.
In addition, it the drone is very handy and ready for immediate use. With the Fly more Combo it comes packed in a nice case with 3 additional batteries that fits in any backpack. We are fascinated by this drone from day one. The drone is much more silent, so you do not disturb people in near area.
The only drawback that we have been able to determine so far is the lack of the "Follow Me" mode and the missing 4k video mode. Hight quality Videos would have helped by cutting them to the Instagram mobile phone format. For our demands and above all for the legal relief and the price, the DJI Mini is our clear favourite when it comes to travel drones.
4. More tips for accessories and apps
Since we bought the DJI Mini Fly More Como, which can be payed in installments free at Amazon. We had no concerns about the transport. If you want to get on a plane with a DJI Pro, we definitely recommend packing the batteries in a separate, preferably fireproof, case and taking them on board. There are several cases in which the batteries have started to burn due to the pressure difference. With the DJI Mini, something like this has not yet happened and thanks to its size we always take it on board in the Fly more bag.
If you have to travel to unsafer regions and, for example, find accommodation in a shared room, you should also think of a Pascafe backpack (mobile, water-repellent safe). So that nothing can get lost during the night.
Another must-have is a sun visor for your cell phone when you have it connected to the remote control. You should definitely take this gadget, which you can get for 13 euros, with you, especially if you plan to fly the drone in a sunny environment. There is nothing more annoying to look for a shady place just because you can't see anything on the mobile phone display. Furthermore, you should always think of the documents that you may have to show as described above. Insurance, in particular, is a must.
Finally, we would like to go back to the apps that we often use when dealing with the threat.
For an overview of the no-fly zones, we recommend the AirMap, AirMap (website | Android | iOS) whereby we now almost exclusively use the DJI Map, which has really improved a lot in the last few months and shows all flight zones worldwide.
For the weather forcast we had the UAV Forecast (Android | iOS) in use more often, but we have currently switched to using normal weather apps. For example from Wetter.com
For picture or video editing, we recommend the Adobe Lightroom app (Android | iOS) for pictures and for video InShot
Conclusion
Even if it is a lot of input at first glance and the effort behind it seems frustrating for many, in our opinion a drone is definitely worthwhile. The unique pictures and the better impressions for the surroundings are breathtaking.
We were particularly impressed by the DJI Mini, thanks to its flexibility and the low, bureaucratic effort that you have with such a small drone. Since there is a much lower risk of injury with this drone and there is also a much smaller risk for the airspace, we hope that there will be further reduce of prohibitions  for aircraft under 250 grams. We are curious what the new EU rules will bring drone owners at the beginning of 2021.
We hope we were able to give you a good overview with the relatively short excerpt about the current regulations in relation to Greece and our comparison of the most relevant drones and we would appreciate your opinions.
Good to have you here…